Baylor freshman continuing family pole vault tradition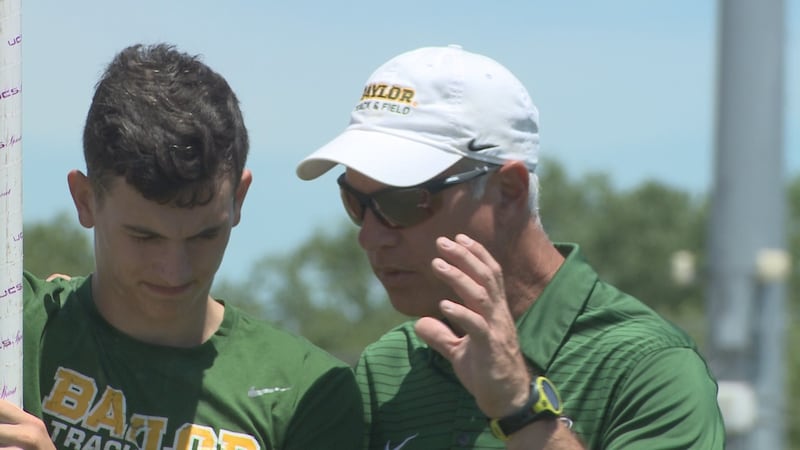 Published: May. 10, 2018 at 7:05 PM CDT
Baylor freshman Riley Richards' pole-vault lineage can be traced all the way back to the 1940s.
His grandfather, Bob, won an Olympic bronze medal at the 1948 games in London -- the same place the 2012 games were held when Riley felt his calling to the sport.
"(London) is where I can truly say I got the Olympic bug," Riley Richards said. "(That's) where I really fell in love with track & field and where I fell in love with the Olympic games."
More impressively, Bob Richards is still the only pole vaulter to win two Olympic gold medals -- 1952 in Helsinki, Finland, and 1956 in Melbourne, Australia. He then made a jump into the marketing world in 1958, becoming a spokesman for Wheaties and was the first athlete to grace the front of a Wheaties box.
Should Riley eventually represent the USA, he obviously wouldn't be the first Richards to do so, but his track to national glory would be even more special knowing his father, Brandon, would be right there by his side as his collegiate coach.
Brandon is one of Bob's four sons, and also had a fantastic pole vaulting career. A current Baylor volunteer coach, he earned a letter for the Bears in 1990, but is ranked as the No. 10 vaulter in UCLA history.
Riley was born and raised in Waco, and attempted to play baseball, soccer and golf.
Admittedly, he was terrible at all of those, and discontinued playing those sports in the seventh grade. That's when his father naturally recommended giving pole vaulting a chance.
By the time Riley graduated from China Spring High School, he was a two-time state champion in the sport. Top collegiate programs salivated at the opportunity to add him to their roster.
But he made a lone-star statement after multiple recruiting trips to a number of schools that included Virginia Tech, Kentucky and Texas Tech.
"I think by the fourth recruit trip he said, 'Dad, I've seen enough,'" Brandon Richards said. "'My heart's at Baylor. I want to be a Baylor Bear.'"
Since switching from his high school colors of navy and sky blue to the Baylor green and gold, Riley has competed in six events, producing his best mark (17-5) in the Michael Johnson Invitational in April. That's just two inches shy of his personal record.
Not bad for a kid that's afraid of heights.
Maybe over time, Riley will be able to surpass the Richards family record of 18 feet, 4 inches, set by none other than his father.
For that day to happen, he'll need a lot of factors to exist: Clear skies with minimal wind gusts, unwavering mental focus, the perfect amount of chalk to grip the pole, and elite technique.
From the superstitious initial grunt into the gallop down the track, to planting and bending the pole at the preferred angle, to the final body bend over the bar -- everything must be synonymous.
Not only would that memory be tough to top, but it would become unforgettable knowing his athletic inspiration has been there for every step, every practice and every meet.
"The hard thing is that I have to be sure there's a fine line between being dad and coach," Brandon Richards said. "It's been great, we get along great, it's been working now for seven or eight years and it'll continue to work."
"It's such a cool memory to have so you can show your family one day," Riley Richards said. "It's such a blessing to have my dad as a coach."
LIFE-CHANGING ACADEMIC VIEW
Like his pole vaulting skill, Riley's academic focus took years to obtain. His mother, Tammy -- a Baylor graduate and Riley's other life coach -- reiterated just how important it is to maintain good grades.
It wasn't until Tammy was diagnosed with breast cancer in June 2017 that Riley changed his classroom perception from an afterthought to a priority.
After five months of chemotherapy, radiation treatments began in February of this year. Pain be damned, Tammy eventually overcame something a lot more daunting than a bar hovering 18 feet in the air.
The hair, eyelashes and eyebrows are coming back, and she hopes to go on a celebration trip by the end of the year.
Before that, she let Riley know via text (pulsating heart emoji included) that she plans to attend the Big 12 Outdoor Championships.
"It is going to be a great Mother's Day present for me to watch
jump on Sunday at Baylor."