Area sheriff livid over lie spread about employee on social media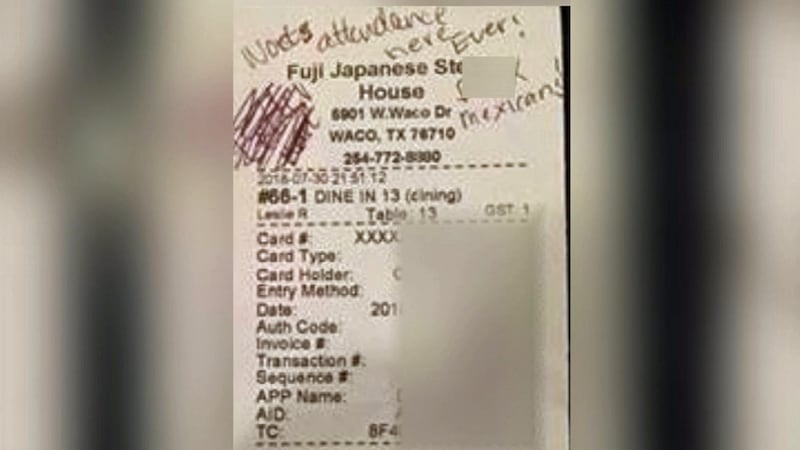 Published: Jul. 31, 2018 at 6:35 PM CDT
Freestone County Sheriff Jeremy Shipley is livid over a widely-circulated social media post in which a waitress at a Waco restaurant falsely claimed that one of his employees scrawled a racial slur against Hispanics on a receipt.
"The character and integrity of this employee and my office has been attacked based on a lie that spread through social media," Shipley said in a press release Tuesday.
"Our employee and the immediate family have received numerous hate messages from this fabricated lie," he said.
"I'm hopeful that some the same people who were so mean and hateful without fact checking, will now message apologizing for their actions now that the facts of this unfortunate situation has come to light."
Shipley received a report Monday night that a waitress at the Fuji Japanese Steak House at 5901 West Waco Dr. in Waco was claiming that a sheriff's office employee "had written a racist remark on a check against the Hispanic community."
He took the complaint seriously enough that on Tuesday he met with the restaurant's manager, whom he described as very cooperative, and reviewed surveillance video footage, compared the handwriting on the check to different sources, and then met with the waitress.
"During the conversation with the waitress, the waitress confessed to writing the racial comment on the ticket herself due to being upset that day," Shipley said.
"The waitress confirmed that she took the ticket book containing the ticket from the customers at the table, went into the restroom, and hand wrote, herself, on the receipt the racial comment," he said.
"The waitress advised that she was sorry for what she did and advised that she didn't know it would create this type of problem," he said.
"My employee did not deserve this, nor does my office or any law enforcement agency in this state or across America. This is a perfect time to remind people that just because it's on social media doesn't make it true," Shipley said.