Photographer captures drone footage of local protest march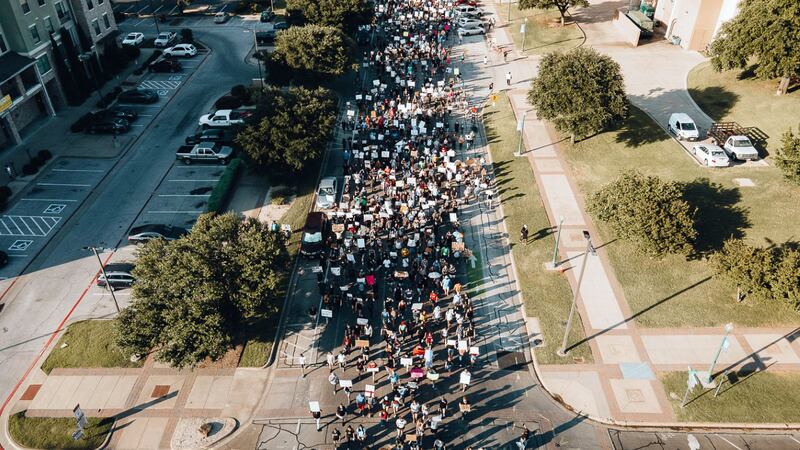 Published: Jun. 8, 2020 at 2:38 PM CDT
A Baylor student from Long Island, N.Y. who is also a photographer, captured some moving drone footage as hundreds marched peacefully Saturday through the streets of downtown Waco to protest after the death of George Floyd, the former Texas man on whose neck a Minneapolis police officer knelt for nearly nine minutes on May 25.
Josh Martin, 21, owner of joshuamartin.jpg and a senior religion major at Baylor, says documenting the moment in time as Waco area residents joined hundreds of thousands of others around the world fighting for racial equality following Floyd's death makes him feel like he's using his skillset to make a positive difference.
"As a photographer, it's been such a huge blessing to be able to use these gifts that the Lord has given me in order to elevate and document the fight for justice that's going on right here in our city," Martin said.
"As an individual with a voice and even the smallest of platforms, I feel like it's my responsibility to leverage what I've been blessed with in order to fight for change."
Martin attended the first Rally for Change on May 31 in Waco and participated in the Walk of Healing, which took residents on the path of Jesse Washington, a 17-year old black teenager who was dragged from the McLennan County Courthouse to the town square and lynched in front of city hall in 1916 as thousands of residents watched.
Martin was not part of any group which organized either event but felt his pictures could further spread a message of hope.
He took pictures at the first events and then on Saturday as he walked out the door to protest he threw a new drone in his bag that he wasn't even sure how to use.
"On a last minute whim I decided to throw my drone in my backpack as well. I had literally gotten the drone five days beforehand and had very little idea of how exactly to use it," he said.
The protestors first met at Indian Spring Park Amphitheatre where they spoke about the death of Floyd, police brutality, the importance of voting and the demands for change.
They then marched through the streets of downtown Waco holding signs and raising their fists in the air as Josh's drone hovered above the estimated crowd of 600.
The most memorable moment he captured, he believes, was when the group took a knee, a symbolic gesture of peaceful protest being seen across the globe.
"Being able to go and fly it over that crowd of people who were kneeling on Austin Avenue in downtown Waco in a moment of silence for George Floyd and the others who have been lost, it was special," he said.
"And seeing the way in which that footage was used by the black community and by others who are also fighting for justice and fighting against oppression it was so special to see something the Lord allowed me to create be used to bring forth excitement and energy."
Martin says he hopes that the movement and momentum for racial equality continues and says based on what he's seen from the ground and the air, it will.
"It gave a tangible perspective on the fact there are a lot of people behind this movement and change is happening in Waco."